If you'd like to give us some feedback, help us with the Basque language or simply share your experiences then you can get in touch with us via Twitter – @pintxobars – we'd love to hear from you.
Who we are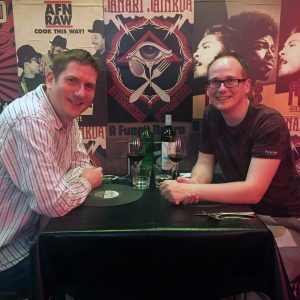 We are two hungry friends, Oliver and Rich, who are based in the UK. Our first trip to San Sebastián was in 2013; we had done no research and had a limited local vocabulary. Captivated by this amazing city, we have returned twice each year ever since. With each visit we learn more and more, trying new dishes and different bars, as well as returning to our favourites.
We often get asked by friends for our tips and recommendations, and some of them encouraged us to put together this site. We're not related to the bars in any way – we're just passionate advocates of this awesome gastronomic culture, and we want to help as many people as possible to experience it too.
On egin!