If you're travelling internationally you can fly in to either Bilbao or Biarritz, although there is a local airport just outside San Sebastián which is great if you're coming from Barcelona or Madrid.
From Bilbao Airport
Bilbao Airport is just over 100km from San Sebastián. An hourly coach service operated by PESA/Lurraldebus leaves from the front of the airport, and at €17 it is much more economical than a taxi (approx €130-150). You can book your seat in advance on the PESA website (you can switch the language to English, French, Spanish or Basque) but you'll have to be sure of the specific time you will be travelling. You'll also need to print your ticket to show the driver – an electronic copy will not be OK!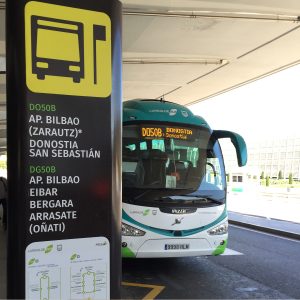 For maximum flexibility, and to avoid the risk of missing your coach because your flight was delayed, you can buy your ticket once you've arrived at the airport. Turn right as you exit Arrivals, and at the far end of the building there's a PESA ticket machine which accepts card and cash. You can also pay the driver in cash – but be aware that they don't accept notes bigger than €20.
On the PESA website and on the front of the coaches, you will see the Bilbao Aiport stop referred to as "LOIU" or "AEROPUERTO BILBAO". The route you are looking for is the DO50B from Loiu/Aeropuerto Bilbao to Donostia-San Sebastián. The coach may make an interim stop at Zarautz if requested by a passenger. The journey will take around an hour and fifteen minutes, and the terminus is San Sebastián's newly-built underground bus station in Paseo Federico García Lorca.
For the return journey you can again buy in advance online, or you can buy at the ticket office in the bus station (not from the driver). The TV screens in the bus station will indicate which parking bay the bus will leave from.
From Biarritz Airport
Biarritz Airport in the southwest of France is 40km from San Sebastián – approximately 45 minutes by road. Shuttle buses to San Sebastián are operated by PESA and Conda.