The pintxo
Pintxos are typically finger foods, usually small enough to be eaten in one or two bites. The first pintxos were slices of baguette with various toppings, held in place with the cocktail stick or skewer that gives them their name – pintxo (in Basque) and pincho (in Spanish) means skewer or spike.
These days, pintxos are more diverse and the traditional bread and the skewer are no longer mandatory elements. They have developed from humble snacks to creative, culinary works of art on a plate. Molecular gastronomy sits alongside traditional pintxos, both taking advantage of the fantastic ingredients that the Basque region has to offer.
There are annual competitions where the talented chefs passionately compete to create the best pintxos, and the bars are rightly proud of their winning creations, with many becoming their star pintxo, or "pintxo estrella".
Gilda – the first pintxo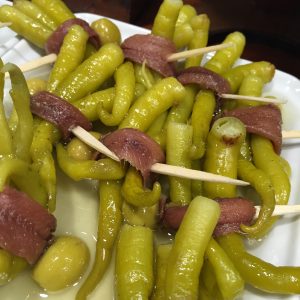 Legend has it that olives, pickled guindilla peppers and salted anchovies were first skewered together in 1946 by Joaquín Aranburu, a customer in Casa Vallés in San Sebastián, and at that moment the pintxo was born. He named his spicy and sexy creation the "Gilda", inspired by Rita Hayworth's character in the film of the same name.
These are the perfect accompaniment to a little zurito beer or a glass of txakoli – please make sure you try one!


Pintxo culture
"Txikiteo" is the Basque culture of going out for pintxos. You have a small drink and one or two pintxos in each bar, before moving on to the next. Pintxos are usually eaten as a snack to keep you going before a main meal, but whilst there are some fantastic restaurants in San Sebastián, nothing beats a good pintxo crawl that lasts a whole evening.
The way it works can vary slightly from bar to bar, but here's how to do it:
Do some research: It's fun to discover things as you go, but most bars have their specialities and it helps to know this in advance. Lucky you found this website – we've done the hard work for you!
Be the early bird: Bars can get quite crowded in the evening and in some places it can be difficult to get near the bar, but please don't be put off by this. Be patient and assertive or be early; when the bars are emptier you can relax a little and take your time, until you gain more confidence. You're also more likely to have a good conversation with the bartender if it's less busy, and that's part of the experience.
Make your choice: In many places you'll find a selection of cold pintxos on the bar, but asking for a plate and loading up with as many as you can is a bit touristy…and you'll be in danger of filling up too quickly! Indicate what you'd like and the bartender will oblige. If they give you a plate to help yourself, then shown them what you've chosen before you tuck in. It's fine to use your hands to pick things from the platters.
Look at the menu boards: Some of the best food – including hot pintxos – will be made to order, so don't forget to look at the blackboards. Many bars also have menu cards in English to help you out. Be adventurous!
Be social: A txikiteo is a social affair. Look at what other people are eating and ask what it is, if it takes your fancy.
Get a little drink: Try a glass of txakoli (a young sparkling white wine poured from height to make even more fizz as it splashes into the glass), a local sidra (cider), a txikito (a small glass of wine) or a zurito (a small glass of beer) as the perfect accompaniment to your pintxos.
Find your spot: You'll be lucky to get a seat at busy times, so prop up the bar or find a gap in the crowd and make it your space as you learn the art of juggling pintxos and drinks. If you've ordered something fresh from the kitchen, keep an ear open for the bartender announcing its arrival.
A sign of quality: It is customary to throw your used paper napkins on the floor – embrace this and don't be put off if a bar looks messy.
Pay your bill: You keep a tab and pay before you leave the bar, not after each round. Everything works on an honour system, so make a mental note in case you need to re-cap when you ask for your bill. It's easier if you stick with the same bartender each time you order, as they usually have an amazing ability to keep track of what you've had.
Show your appreciation: Don't forget to say thank you and goodbye as you leave!
A number of guided pintxo tours operate in the city, and they will deal with all of the ordering and paying for you – showing you the ropes and allowing you to relax a little until you're ready to go it alone.
The best ingredients
If you see any dishes using the following local ingredients then please try them.
Antxoa – anchovies
Bacalao – salt cod
Txangurro – spider crab
Txistorra – sausage
Kokotxas – fleshy part of the jaw of cod or hake, a Basque delicacy that is nicer than it sounds!
Also see: Foodie phrasebook